New Book out now! "It's the closest thing to being there for those of us who were born too late."
Portrait of Jayne Mansfield taken in Los Angeles 1967

Buy the new Walter Fischer book here! Movie star Jayne Mansfield and notorious Satanist Anton LaVey met in 1966. Both were publicity conscious and made the most of the meetings, which evolved into friendship. Almost always present was German paparazzo Walter Fischer, stationed in Hollywood and catering to image- and scandal-hungry photo magazines all over the world.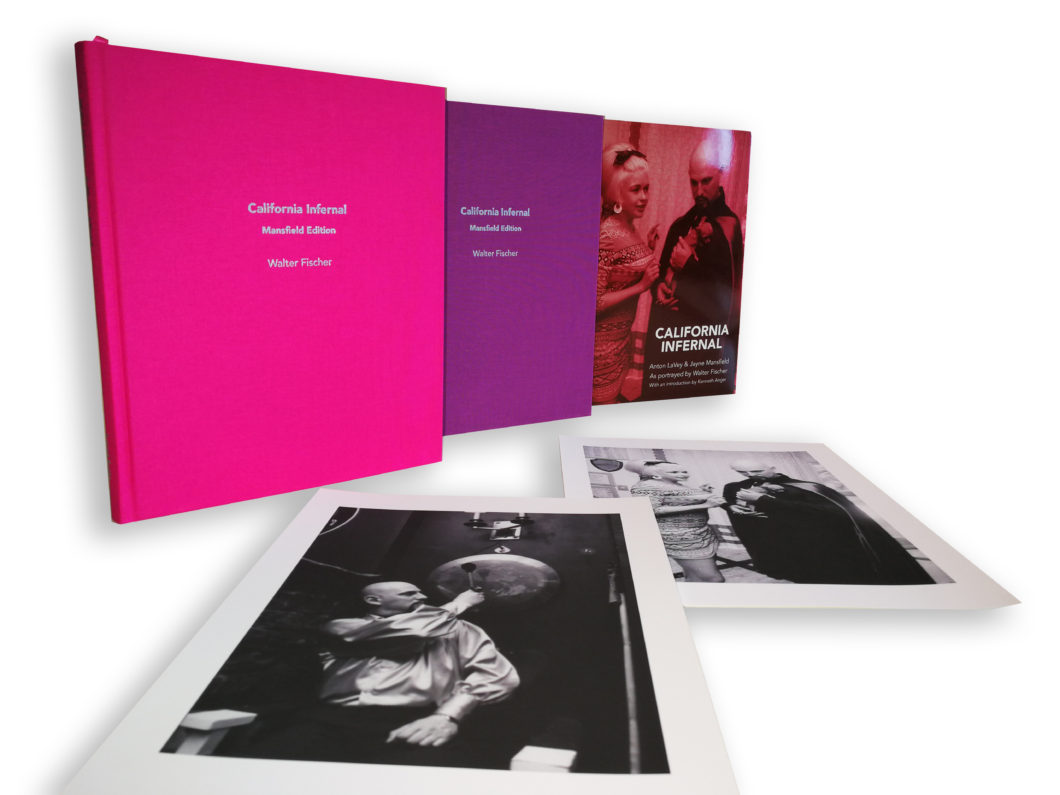 Fischer's unique collection of photos takes us straight into the ritual chamber of the Church of Satan in LaVey's infamous "black house" in San Francisco, as well as into Mansfield's Hollywood "pink palace". We also get to follow LaVey on excursions to his friend Forrest "Famous Monsters of Filmland" Ackerman, to Marilyn Monroe's grave, to TV studios and back to Satanic weddings and Zeena's baptism at the Church of Satan HQ.
These were wild and narcissistic times in America. Few understood the power of media exposure better than Jayne Mansfield and Anton LaVey. Captured alone or together by master paparazzo Walter Fischer, this devilishly handsome couple made headlines that still resonate today.
The book also contains an introduction by legendary filmmaker Kenneth Anger, and forewords by writer Carl Abrahamsson and collector Alf Wahlgren.
Published in May 2017. New expanded "Mansfield Edition", with eight additional colour pages. We have worked extra hard to make this a spectacular edition, with more than ten new images compared to the first edition! 152 pages, size 21 x 25 cm, hardbound with dust jacket. Also included is a facsimile of the typescript of very last interview Jayne ever did (by Ivor Davis, published in the Daily Express, June 30th 1967).
"California Infernal is an elegant, collector-quality book in its hardcover edition, right down to its red-ribbon placeholder. The tasteful binding and dramatic cover-backings complement 150 pages of black-and-white and color photographs, most thought to be long-lost, of Anton, Diane, and Zeena LaVey from the initial 1966-68 years of the Church of Satan."  – Michael A. Aquino
"I am extremely impressed with this book. The layout is done beautifully. This is everything you want in a photography book." – Ashley, The Eternal Jayne website
"Anton Szandor LaVey in full Satanic Majesty" – Kenneth Anger
Marlene Dietrich et Louis Armstrong. Las Vegas, 19
February 1962. (Photo Walter Fischer)

If

you are interested in

photos taken by

Walter Fischer

do not hesitate

to contact me.
California Infernal Photographs by Walter Fischer © Alf Wahlgren